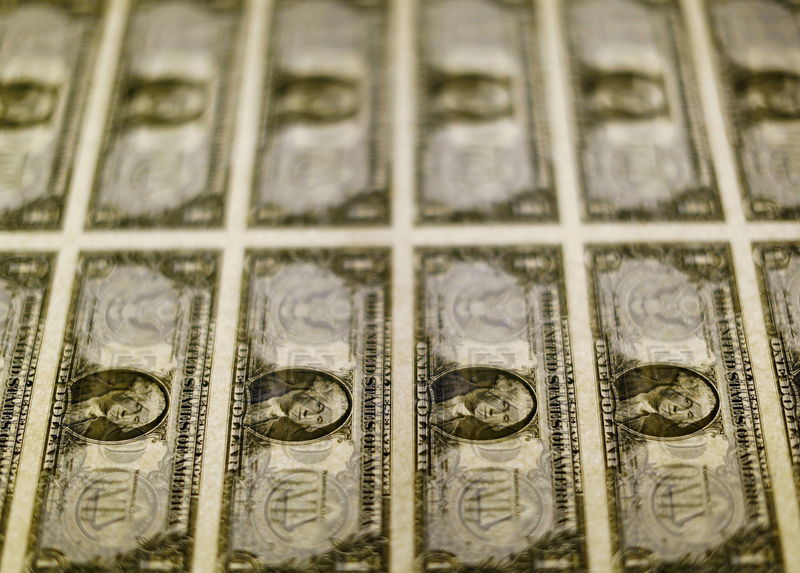 © Reuters. Dollar holds onto modest gains as U.S. tax reform hopes support
Investing.com – The dollar was moderately higher against other major currencies on Friday, as investors eyed a batch of U.S. data due later in the day and as hopes for an upcoming U.S. fiscal plan continued to support.
The greenback was boosted after U.S. President Donald Trump unveiled a plan on Wednesday calling for lower tax rates for businesses and individuals as part of a comprehensive overhaul of the U.S. tax code.
However, the proposal still faces an uphill battle in the U.S. Congress, with the Republican Party divided over it and Democrats hostile.
Sentiment on the U.S. dollar also remained supported since Fed Chair Janet Yellen called for gradual rate hikes in a speech on Tuesday.
Market participants were looking ahead to the release of U.S. reports on personal spending and consumer sentiment due later Friday, for further indications on the strength of the economy.
EUR/USD eased up 0.08% to 1.1797, while GBP/USD dropped 0.62% to 1.3359, re-approaching Thursday's two-week lows of 1.3344.
The UK Office for National Statistics reported on Friday that the UK gross domestic product expanded 1.5% in the second quarter, year-over-year, down from a previous estimate of 1.7%.
On a quarterly basis, the UK economy grew 0.3% in the three months to June, in line with analysts' expectations.
A separate report showed that the UK current account deficit widened to £23.2 billion in the second quarter from a revised £22.3 billion in the first quarter of 2017. Analysts had expected a current account deficit of £15.8 billion for the second quarter.
The pound had found some support after UK Brexit Secretary David Davis said on Thursday that "considerable progress" had been made in talks with the European Union.
However, EU chief negotiator Michel Barnier warned that Britain was "months" away from being able to negotiate a future trade deal, with huge divisions still remaining.
Meanwhile, sentiment on the euro remained vulnerable as Spain's Catalonia region was planning to vote on its independence from the rest of the country on Sunday, even as the government declared the vote illegal.
Elsewhere, the yen was lower with USD/JPY up 0.21% at 112.54, while USD/CHF added 0.09% to trade at 0.9712.
The Australian and New Zealand dollars were weaker, with AUD/USD down 0.32% at 0.7830 and with NZD/USD shedding 0.29% to 0.7216.
Meanwhile, USD/CAD was almost unchamged at 1.2435, just off the previous session's three-week high of 1.2519.
The U.S. dollar index, which measures the greenback's strength against a trade-weighted basket of six major currencies, was up 0.09% at 93.03 by 05:20 a.m. ET (09:20 GMT), still close to Thursday's one-month peak of 93.50.
sponsoredArticle = 'div-gpt-ad-1466339494851-0';