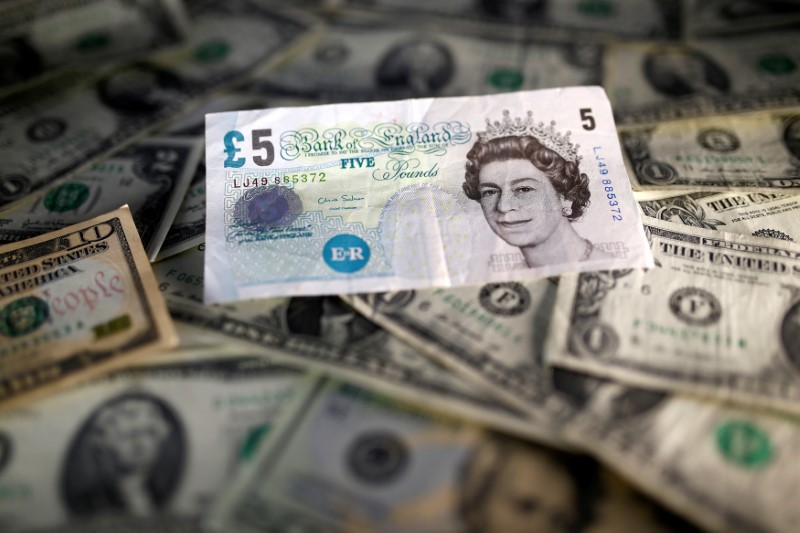 © Reuters. Sterling hits day's lows as UK factory growth slows
Investing.com – The pound extended losses against the broadly stronger U.S. dollar on Monday after data showing that UK factory growth slowed in September, indicating that the economy could be losing momentum.
GBP/USD hit a low of 1.3301 by 05:10 AM ET (09:10 GMT), the weakest level since September 14.
Financial data firm Markit said its UK manufacturing purchasing managers' index fell to 55.9 from August's 56.7, weaker than forecasts for a reading of 56.4.
While growth remained solid softer growth in new orders and a slowdown among producers of investment goods raised concerns over the outlook for the coming months.
"The growth slowdown in September is a further sign that momentum is being lost across the broader UK economy," said Rob Dobson, director at survey compiler Markit.
Dobson also warned that rising commodity prices and the weak pound will continue to drive import costs up. That will "dent profitability and potentially disrupt production schedules in coming months".
The pound was little changed against the euro following the report, with EUR/GBP last at 0.8221.
In the euro zone, data on Monday showed that factory activity expanded at the fastest rate since early 2011 in September, with the manufacturing PMI jumping to 58.1 from 57.4 in August.
The euro remained under pressure amid uncertainty in the aftermath of an independence referendum in Spain's Catalonia.
Spain's prime minister defended the violent police response to the independence vote in Catalonia on Sunday, which left hundreds injured. Investors were monitoring the situation as the Spanish government attempted to calm tensions in the region.
The euro was lower against the dollar, with EUR/USD skidding 0.6% to 1.1748.
The U.S. dollar index, which measures the greenback's strength against a trade-weighted basket of six major currencies, was up 0.53% to 93.40.
Demand for the dollar was underpinned by higher U.S. Treasury yields. The yield on 10 year U.S. Treasuries rose to 2.364% overnight from Friday's U.S. close of 2.326%.
Yields rose amid speculation that U.S. President Donald Trump is considering former Federal Reserve Governor Kevin Warsh to succeed current Fed Chair Janet Yellen at the central bank.
Warsh is seen as more hawkish than Yellen so his appointment could lead to a faster pace of interest rate hikes.
The dollar has risen in recent weeks as investors grow more optimistic about the prospect for U.S. rate hikes and tax cuts that some expect to boost the U.S. economy.
sponsoredArticle = 'div-gpt-ad-1466339494851-0';